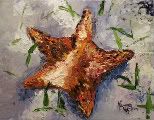 9" by 12" original oil on gallery wrap canvas with sides painted.
This piece is highly textured and was done using a palette knife. I love how the light is
hitting the starfish....makes me want to head to the beach! I am having computer "issues" and am having to use my son's computer so I might not be posting as often until I get mine back from the Geek Squad. All this technology sure keeps life interesting! If you have any questions about this piece, please contact me at normasart@cox.net for more information. Have a great day!